Stories Published on February 14th, 2012 | by Seán Ward
0
Kia's New Flagship Sedan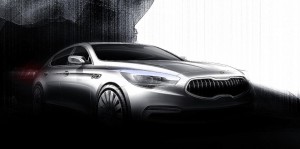 Kia's design sketches of its future top of the range sedan, codenamed the 'KH' have been released.
The KH, uses a more futuristic version of Kia's current design language, a language which has changed the Kia brand significantly; no longer are the cars cheap, cute and cuddly cars, but more aggressive and exciting cars aimed at competing with the likes of Ford and Vauxhall.
Unlike the Optima, Kia's current flagship saloon that went on sale on the 1st February, the KH is rear wheel drive, so if Kia's engineers work hard they could be looking to steal some sale from the BMW faithful.
According to Kia, the car is 'distinctive, modern and classic' that 'combines innovative design with high-tech features'.
By looking at the front end, you're instantly aware that this is a big car – not only is the characteristic Kia grille humungous, but the long bonnet and headlights have a whiff of the BMW 7 Series about them; everything's very tall, very purposeful.
Kia's engineers also worked hard to make the car's side profile look clean, elegant but also spacious.
Soon-Nam Lee, Kia's Director of overseas marketing, said: "Our all-new flagship sedan integrates all of our key capabilities such as design, performance, high-tech features and infotainment into one striking model.
"Although launch timings for those overseas markets it will go to are yet to be confirmed, this all-new rear-wheel drive large sedan will definitely become the leading model of our global line-up, showcasing the best of the best of Kia."
There's just one problem with the KH: it won't be coming to the UK, which is a great shame – it could have done very well.
[portfolio_slideshow]