Stories Published on May 12th, 2012 | by Seán Ward
1
Kung Fu Vettel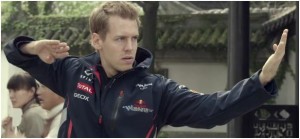 A has video emerged showing that not only is Sebastian Vettel a supreme Formula 1 driver, but also an intelligent, fast, agile and deadly Kung Fu fighter.
The video, released by Infiniti on their official YouTube channel, shows the double F1 champion and a female companion come to the aid of helpless man under attack from a group of Kung Fu wizards.
If you ever meet Vettel, don't attempt to shake his hand or it's almost certain he will scissor kick you in the face.