Stories Published on February 23rd, 2011 | by Seán Ward
0
Lamborghini Gallardo Superleggera Spider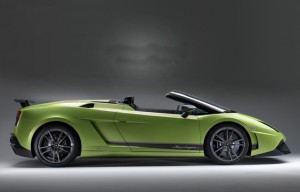 Lamborghini has said that it will be releasing a convertible version of its Gallardo LP570-4 Superleggera, called the 'Performance'.
The performance will feature the same 5.0 litre 570 bhp V10 engine seen in the Gallardo, but will weigh 20kg less than the standard convertible.
It will also feature two racing stripes and a unique glass engine cover to differentiate itself with other less exclusive Lambo's.
Prices are expected to be around £190,000 but a release date has yet to be set.
Published on 22nd October 2010 at www.motoringpress.wordpress.com.