Stories Published on January 30th, 2012 | by Seán Ward
2
Lamborghini Torched at Portland Auto Show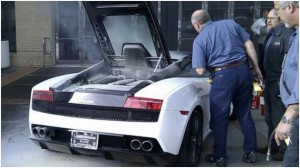 A Lamborghini Gallardo became victim to fire at the weekend, although oddly for a Gallardo the fire was caused not by an overheating engine bay but by the car's guardian.
The LP570-4 in question was due to be on display at the Portland Auto Show, but a pre-show mistake wrecked the car.
Going against the show's official display car guidelines, it was brimmed with fuel, after which an inspector rightly pointed out that the fuel level was too high.
Rather than emptying the fuel tank, in a controlled manor, the car's guardian decided to burn the fuel, and so started up the engine and kept it ticking over at the rev-limiter for around fifteen minutes, after which he got bored and lodged a block of wood between the seat and pedal.
Shortly afterwards, the engine bay exploded, but lucking marshals were on hand with fire extinguishers to prevent the fire claiming the whole car.
No one was hurt in the incident, but organisers of the show have said that they will not tolerate such acts of stupidity in future shows.