Stories Published on November 14th, 2011 | by Seán Ward
0
Land Rover DC100 and DC100 Sport Debut in LA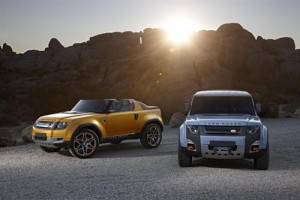 Two new Land Rover models, the DC100 and the DC100 Sport, will debut this week in front of the motoring community at the Los Angeles Auto Show.
Supposedly a Defender replacement, the two cars are being debuted in LA to see if the US market is ready to see the Defender return.
John Edwards, Land Rover Global Brand Director said: "The Defender has always been at the heart of the Land Rover Brand and single-handedly defines our go-anywhere, can-do sprit. Our ambition is to create an all-new Defender for a global market that remains absolutely faithfully to its original DNA: tough, versatile, durable and capable. At the same time, it will be developed for the 21st century and adaptable for the needs of future generations.
"Our intention is to introduce the all new Defender in the middle of the decade – there's a lot of work to do to meet these dates and our concepts are just the start of the journey.  We are here in LA to showcase our DC100 and DC100 Sport concepts and start to actively explore the possibility of bringing the future Defender to North America."
The new cars follow in the footsteps of the Evoque, in the sense that they are designed, although for off road use, to be more of a fashion accessory than previous Land Rovers.
As a result, the two concepts sit on 20-inch alloy wheels, and have a look, Land Rover says, that is 'California cool'.
But it's not all show, no trousers – the alloys are designed for off-road use, and like the last generation of Defender, a snorkel is fitted as standard.
A new Terrain-i system is featured on the cars, which creates an intelligent map of the terrain in front of the car and displays it as a 3D visualisation. Terrain-i then automatically identifies potential hazards and suggests alternative routes. In urban environments the same system is able to identify pedestrians and hazards with great accuracy.
[portfolio_slideshow]