Stories Published on December 17th, 2012 | by James Allen
0
Last Lexus LFA rolls off the production line
For those who wanted to buy a brand-new version of Lexus's £330,000 LFA supercar, you'll now have to start browsing through the classifieds, as the last one has just been built and shipped to its new owner.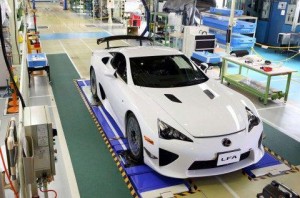 Limited to just 500 units world-wide, the final LFA - reported to be one of only fifty ever fitted with the Nurburgring Package – was completed on December 14th at the firm's Motomachi assembly plant.
The LFA was (in)famously associated with an extremely lengthy development programme (the project took from concept to completion the best part of a decade), so it shouldn't be surprising to hear it also took a while to get all of them built – reports claim only one was completed every day.