Le Mans 24 2013 Published on June 23rd, 2013 | by Seán Ward
0
Le Mans 2013 Results – Winners, Podiums and DNFs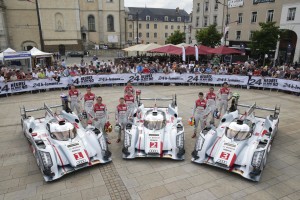 Le Mans 24 2013 will be remembered, of course, for the tragic death of Allan Simonsen in the opening minutes of the race, but it should also be remembered for fantastic camaraderie and courageous driving.
Out of a field of 56 cars, 14 cars did not see the finish flag, a total of 25% compared to last year's 45%. But it was far from a dull race, as 2013 saw some of the most changeable and difficult weather conditions seen in recent years, leading to twelve long safety car periods.
In LMP1, the number 2 Audi piloted by Allan McNish, Tom Kristensen and Loic Duval took the overall Le Mans 2013 victory, ahead of the #8 Toyota in second and the number #3 Audi in third. Up until the final few hours it still looked as if Toyota might be able to snatch the win.
(The #7 Toyota, running in second position, crashed with just over two hours to go, but driver Nico Lapierre managed to get the car, with no front bodywork, back to the pits, repaired, and out on track before the end of the race to secure fourth.)
Overall, out of the eight P1 cars competing this year, all managed to make the chequered flag.
In LMP2, racing was as ferocious as ever with a total of nine cars retiring from the race. The number #35 Oak Racing Morgan-Nissan driven by Bertrand Baguatte, Ricardo Gonzalez and Martin Plowman took the victory, followed by the second Oak Racing Morgan Nissan number #24, with third place claimed by the G-Drive Racing #26 Oreca 03-Nissan.
GTE Pro had 12 entries in 2013, with the eventual win going to car number #92 Porsche AG Team Manthey after a fierce battle with #97 Aston Martin V8 Vantage. The two were trading places with hard racing and strategic pit stops for hours, but rain eventually caught the Aston team out after a decision to stay on slicks didn't pay off.  Not only did the #92 Porsche slip through, driven by Marc Lieb, Richard Lietz and Romain Dumas, but the #91 Porsche also got through to take second ahead of Aston.
GTE Am was won by the number #76 IMSA Performance Matmut Porsche 911 driven by Raymond Narac, Christopher Bourret and Marco Cioci, followed by #55 AF Corse 458 Italia and #61 AF Corse 458.
Attrition Rates 2012-2013 (Retirements per Class)
LMP1: 2012 – 61% (8/13 entries), 2013 – 0% (0/8 entries)
LMP2: 2012 – 40% (8/20 entries), 2013 – 40% (9/22 entries)
GTE Pro : 2012 – 44% (4/9 entries), 2013 – 16% (2/12 entries)
GTE Am : 2012 – 38% (5/13 entries), 2013 – 21% (3/14 entries)
TOTAL : 2012 – 45% (25/55 entries), 2013 – 25% (14/56 entries)