Le Mans 24 2013 Published on June 22nd, 2013 | by Seán Ward
2
Le Mans 2013 Spotter Guide – Every Car, Driver and Classification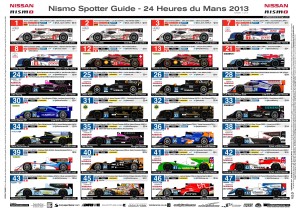 Le Mans is just hours away, and with one of the biggest races in the world comes the challenge of knowing which cars are which, what class they are and who's behind the wheel.
Luckily, thanks to Nismo, SpotterGuides and Andy Blackmore Designs, distinguishing one car from the next should be fairly easy, even at night thanks to their creation of some fantastic spotter guides.

Firstly, the classes, of which there are four at Le Mans: LMP1, LMP2, GTE Pro and GTE Am.
LMP1 are the top level racers, and for 2013 there are 8 cars: three Audi R18 e-tron Quattros, two Toyota TS030s, two Rebellion Racing Lola B12/60 Coupés, and one Strakka Racing HPD ARX03c-Hondas.
LMP1 cars can have 3.4 litre naturally aspirated petrol engines, 2.0 litre turbo-petrol engines or 3.7 litre turbo-diesel engines, and all LMP1 cars can be distinguished by the red background on their numbers, and their white headlamps.
LMP2 cars are the second level of prototype cars, and every car has to be built with a budget of no more that €400,000. Engine sizes range from 3.2 litre turbos to 5 litre naturally-aspirated, and cars can be seen by their blue door cars and white headlamps.
Overall there are 22 LMP2 cars competing at Le Mans 2013, but in 2012 40% of the LMP2 cars competing crashed out or were forced to retire with mechanical faults.
GTE Pro is the smallest class with 12 cars, where all drivers are professional racers and cars only share basic parts with their road-going counterparts.
Engine sizes range from 4.0 litre turbocharged to 5.5 litre naturally aspirated, with cars distinguishable by their green door cards and yellow headlamps.
The final class, GTE Am, is the largest class of all, with 14 cars competing in 2013. Recognisable by their orange door card and yellow headlights, these cars bust be one year older in specification than the GTE Pro cars, and must be driven by 'Silver' or 'Bronze' rated drivers.
Spotting the different classes, then, should be a doddle, but spotting the individual cars should be easy too. As well as the different numbers, each car racing under the same team will have small livery differences. For example, the number 7 Toyota LMP1 has white mirrors, whereas the number 8 car has red mirrors.
The race begins at 2pm UK time.