Le Mans 24 2013 Published on June 22nd, 2013 | by Seán Ward
0
Le Mans 24 Teams on Twitter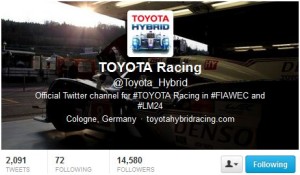 Twitter is useful for all sorts of reasons, and in motorsport it's a superb instant way of getting in touch with teams and keeping up to date with their drivers, tyre changes and if they have an off-track excursion.
So here are all of the Twitter accounts for the Le Mans 2013 teams – be sure to chat to them, follow them and ask questions.

To see the different cars, check out the Le Mans 2013 Spotter's Guide, and click here to see where to watch Le Mans coverage.
LMP1
Audi:                                         Audi__Sport
Toyota:                                     Toyota_Hybrid
Rebellion Racing:                     RebellionRacing
Strakka Racing:                       StrakkaRacing
LMP2
Oak Racing:                             OAKRacingLive
Delta-ADR:                              delta_adr
G-Drive Racing:                      delta_adr
Gulf Racing Middle East:       NO ACCOUNT
HVM Status GP:                     StatusGrandPrix
Lotus:                                       Lotuslmp2
Level 5 Motorsports:              Level5Racing
Race Performance:                  RPerformance03
Signatech Alpine:                     SignatureRace
Jota:                                           JotaSport
DKR Engineering:                    NO ACCOUNT
Boutsen Ginion Racing:           NO ACCOUNT
Greaves Motorsport:              Greavesmsport
Morand Racing:                        OAKRacingLive
Thiriet by TDS Racing:            TDSRacing_Live
KCMG:                                       KCMotorgroup
Murphy Prototypes:                MurphyPrototype
Pecom Racing:                           AFCorse
GTE Pro
AF Corse:                                    AFCorse
SRT Motorsports (#53):          TeamSRT
JMW Motorsport:                     JMWmotorsport
Corvette Racing:                        CorvetteRacing
Porsche AG Team Manthey:   Porsche
SRT Motorsports (#93):          driveSRT
Aston Martin Racing:                AMR_Official
GTE Am
Larbre Competition:                 corvettems
Krohn Racing:                            KrohnRacing
IMSA Performance Matmut:  IMSAMatmut
Prospeed Competition:             NO ACCOUNT
Dempsey Del Piero-Proton:    DempseyDelPiero
8 Star Motorsports:                  8starmotor
Proton Competition:                 NO ACCOUNT