New Cars Published on May 21st, 2013 | by Seán Ward
0
Lexus IS TRD – the Angry Face of the new IS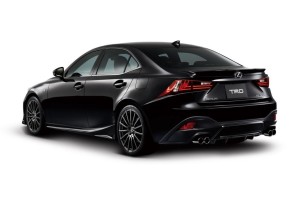 With the launch of the new Lexus IS this week, Toyota Racing Development have announced that it will offer to customers a TRD version, which features a number of styling upgrades but no power boost.
Like the Toyota GT 86 TRD, the IS TRD gets a new and much more aggressive front bumper (if you could get such a thing on the new IS), new, wider side skirts, a small rear spoiler, and a fantastic looking rear diffuser and two double exhausts.
The wheels have been changed too, so rather than 18" wheels you get 15-spoke 19" wheels on stickier rubber.
The only real mechanical changes are the addition of new strut braces, upgraded dampers and stiffer, lower springs.
All of the changes come at a price, however, as the upgrades are only available on the F-Sport models (the 300h F-Sport costs £33,495 and the 250 F-Sport cost £30,495), are only on sale from Japan, and all in all the changes will set you back £8,046.
If adding 25% more money to your new Lexus is a bit too much, the normal F-Sport should do fine. The 300h F-Sport has an in-line, 2.5 litre four cylinder combined with an electric motor to produce 220 bhp (the only torque figure is for the engine alone, which is 162 lb/ft), whereas the 250 F-Sport has a 2.5 litre V6 with 205 bhp and 182 lb/ft of torque.
0-60 mph for the hybrid takes 8.3 seconds (8.1 seconds for the 250) and the top speed is 125 mph (143 mph for the 250), but the hybrid will get 60 mpg, and the 250 only 30 mpg.
Extra speed will undoubtedly come if Lexus make a new IS-F – expect that to be announced, if ever, in early 2015.
[portfolio_slideshow]