Stories Published on June 5th, 2012 | by Seán Ward
0
Lexus launches new GS Advert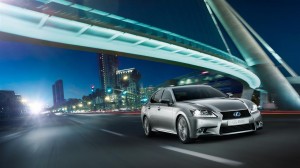 Lexus has aired its advertising campaign for the new GS, due to be launched in Austria in just a few days time.
The TV ad, named "A Million Miles in the Making", supposedly documents "the incredible journey Lexus went on when creating the new Lexus GS. It visually demonstrates the philosophy behind the new GS, and the relentless million mile test drive the engineers completed whilst 'creating amazing'".
Bold statements, but you have to admit the car looks good, a far cry from Lexus a decade or more ago.
The car has a 3.5l petrol hybrid system with 299 bhp, capable of 0-60 mph in 5.9 seconds and an electronically limited top speed of 155 mph. Prices start at £44,995 for the 'Luxury' model, and start at £50,995 for the F Sport and Premier models.