Concepts Published on September 17th, 2012 | by James Allen
0
Lexus previews next IS with LF-CC concept car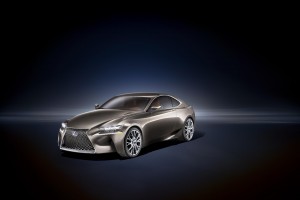 The current Lexus IS has been in production since 2005, so its eventual successor should be just around the corner. And, with the new LF-CC concept car, Lexus has hinted at what it'll end up looking like.
Based on the chassis that underpins the GS saloon we reviewed a short while ago, the LF-CC has been previewed ahead of its Paris Motor Show unveiling in coupe form, though we're assured the finished car will also be available in saloon and convertible formats.
With looks that continue the "L-Finesse" design language that was kick-started by the LF-LC concept, the LF-CC features several of the firm's characteristic stylistic features nowadays, such as the 'spindle grille' that dominates the front, along with a '"F-Sport style" air intakes in the front wings and bumper and sharp creases in the bodywork.
There are, though, a few little details that are, for now at least, bespoke to the LF-CC – the 'fins' in front of the rear wheels lead up to the spoiler on the bootlid, and the rear lights are organised in an intricately angular and geometric manner.
It's not the looks that Lexus is most proud of, though, as the LF-CC previews a downsized hybrid powertrain that will not only be a prominent feature in the next IS – the first such system for Lexus' 3 Series rival - but will also be slotted into other cars in the Japanese maker's portfolio.
Shown off here in 2.5 four-cylinder petrol guise, mated to a "high-performance" battery and electric motor, Lexus claims the system will permit CO2 emissions of under 100g/km, which would comfortably make the next-gen IS the most efficient car in its class.
However, no details regarding the mpg (though we assume it'll be as impressive as the CO2 figure) or power have been announced so far, though we assume that, based on Lexus' claims that it'll generate 1hp for every 2g of CO2 it emits, the grunt on offer will be in the 200bhp ballpark.
Lexus also hasn't provided any images for the car's interior, with the only clue as to what we'll eventually see being that it'll allegedly hint "the kind of luxury Lexus envisions for future cabin layouts".
We do expect, though, to get hold of more details and technical specs regarding the LF-CC at the Paris Motor Show in 10 days time, so be sure to check our news page then for more info on this rather striking concept car.
[portfolio_slideshow]