Stories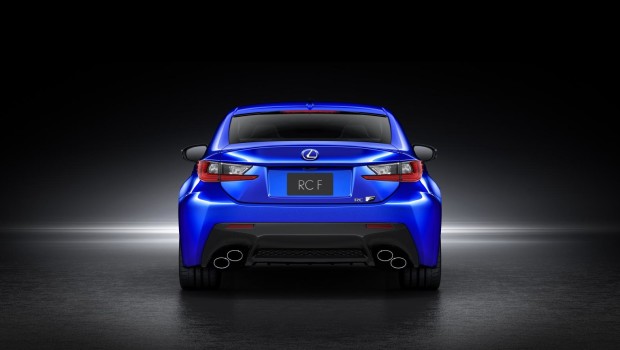 Published on January 22nd, 2014 | by Seán Ward
0
Lexus RC F – Tech Specs and Pictures
This is the Lexus RC F, unveiled in Detroit at the North American International Auto Show last week.
Teased before the show, it was originally thought this would be a production version of the RC Coupe first seen at the Tokyo Motor Show in 2013, but instead this is a V8 super-coupe elbowing its way into the M3/M4 market place.
So what's on offer? A naturally aspirated 5.0 litre V8 with 450 bhp and 383 lb/ft of torque, connected to an 8-speed 'Sports Direct Shift' automatic (there's no manual or dual-clutch option) driving the rear wheels.
Lexus has said it is aiming for a target weight of less than 1800kg, but in reality that's still very heavy (especially when you consider the M4 will weigh 1497kg), so sitting inside the 10-spoke, 19-inch wheels are Brembo brakes all-round to deal with the bulk.
There is some comfort in knowing the bonnet, roof, and active rear wing are made from carbon fibre.
The top speed is limited to 168 mph, but there's no quoted 0-60 mph time yet.
Aside from performance, there are two things to get very excited about: Firstly, adding competition to the Audi/Mercedes/BMW super-saloon marketplace can only result in a desire to build a better driver's car and cut weight from all parties. Secondly, Lexus have decided not to install a lower capacity turbocharged V8, or even a turbocharged V6 as BMW has, but instead stuck to a large, low-revving V8 – good news to all enthusiast ears.
The project's Chief Engineer, Yukihiko Yaguchi, who previously worked on every incarnation of the Toyota Supra and was in charge of the IS F project in 2006, said he has "built the RC F to be enjoyed by all enthusiasts, no matter what their level of expertise," adding "it's a blast!"
Perhaps the best part of the RC F, though, is the way it looks. There are a few odd angles, and some might find the front grille a tad offensive, but it certainly isn't dull, and in blue it looks like mini-LFA.