Stories Published on January 11th, 2012 | by Seán Ward
0
Lexus Sales Boost with CT 200h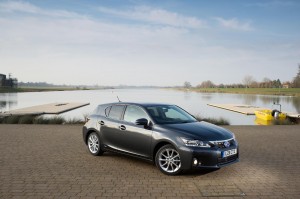 After the launch of the CT 200h last year, Lexus has enjoyed a boost in sales greater than any other manufacturer.
Overall, 8,269 vehicles were delivered to customers, an increase over sales in 2010 by 33.3%.
The CT 200h is marketed as the first premium compact hatchback hybrid, and of sales made in 2011, 4,220 of the cars sold were the new 200h.
Lexus says that the 'CT 200h has achieved great success in bringing new customers to Lexus, with two in every three new owners trading in cars from other brands.'
Richard Balshaw, Lexus UK Director, said: "2011 was a great year for Lexus in the UK. CT 200h has made Lexus accessible to more customers.
"This result is all the more remarkable considering the significant supply disruption we experienced through the year as a result of the Japanese
tsunami.
"2011 is just the first step in the growth of Lexus. Along with the first full year of CT 200h, 2012 will see the launch of the all new Lexus GS 450h. With its bold design, dynamic drive and luxurious interior, all new GS is set to be the next success story for Lexus in the UK."