Editorials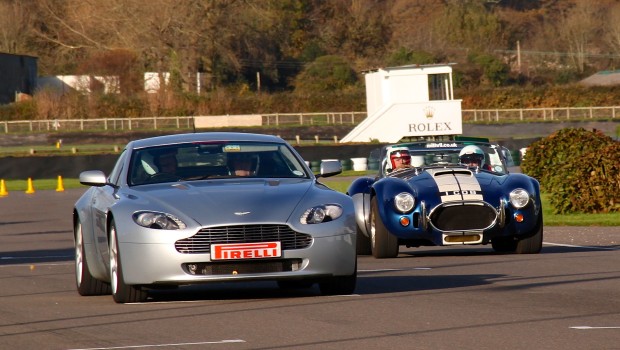 Published on December 16th, 2013 | by Seán Ward
2
Living the Dream – My First Drive in an Aston Martin
For some, the reality of hopping into an Aston Martin is nothing special – a simple part of a daily routine, an act that feels as second nature as blinking.
For me, though, the idea of jumping into an Aston is an altogether much more exciting prospect.
Without wanting to give a small lecture, at the age of five I was given a metallic blue toy Aston Martin DB7 and, while I can't be certain that it was the source of my love for the British brutes, I do know I have looked at Aston Martins with a greater sense of want than I have for any other car manufacturer ever since.
It's not to say I won't criticise Astons if needs be – I'd point out the flaws in an Aston just as much as I would in a Peugeot – but I know for certain that, given the choice between Car A, Car B, and an Aston Martin, I'd take the car from Gaydon every time.
You can imagine my excitement, then, when an Aston Martin was presented to me, along with a racetrack called Goodwood…
It was an immensely cold Friday morning. I was the photographer shooting for a colleague who was driving a Lotus Cortina, a Jaguar E-Type, and an Aston Martin DB4 with Mithrill Racing.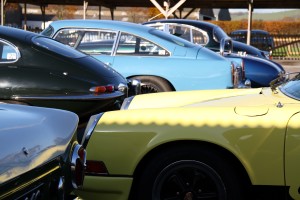 The cars were beautiful, and while the weather was rather bleak to begin with, the sun soon came out, drying the track out and revealing the beauty of the machines before us.
After standing in the cold and losing my shutter finger to frostbite, I headed back to the pits for a cup of tea. Waiting there for more track sessions was an eclectic mix of motors, ranging from a Ford Mustang and an AC Cobra, to a Lamborghini Gallardo and a Jaguar MK.2. But tucked away at the back of the pack was an Aston Martin V8 Vantage. I needed to act.
I downed the coffee and proceeded to chat to one of the instructors in the pit lane, where I mentioned "Aston Martin's are my favourite, I think," before gingerly, and rather casually, dropping in the words "If the Aston is free before lunch, just give me the nod…"
The nod was given.
I grabbed a helmet and, without thinking, walked up to the Aston, opened the door, and slotted into the seat.
It hadn't dawned on me what I was about to do until I saw the wings on the wheel. This was really happening. Bloody hell.
Without wanting to sound too cocky, from that moment onwards the car became another car, as it's best to have your wits about you on-track.
As I set off, however, there were a few problems. Firstly, I'd jumped into a very warm car wearing a rather large jumper, and it immediately dawned on me that I was starting to overheat. Secondly (another excuse), I hadn't been round the circuit for a few months and, if I'd have known I was going to be driving, I would have spent some time making sure I knew the track, as well as getting out in another car before the Aston.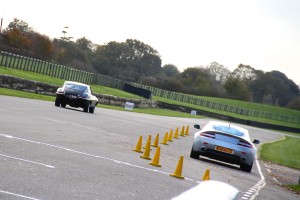 Leaving the pit, I was passed by the aforementioned Jaguar E-Type. It was a truly fantastic sight, but regardless, I needed to pass, and so with a great fanfare ringing in my head, I gave the Aston a boot full.
The blare that followed (exhaust, not induction noise) could, for the uninitiated, have been mistaken by gunfire, as the 4.3 litre V8 fired me towards the horizon for the first time. I'll say this once more: while this might seem normal to some, for me it was a real thrill.
The circuit was wonderful. It's a surprisingly fluid circuit, with a whole host of bumps and cambers that you simply can't see from any video, and with so little run-off one mistake would mean curtains.
Soon, it was time to pass another car, this time the DB4. A simple pass, but rumour has it that very car was once owned by a young Scottish racing driver called Jim Clark, and the headline "Cocky 20-year-old Journo Bins Vantage and Priceless DB4 at Goodwood" was lurking in the back of my mind…
What else is there to say about the Vantage? The steering was surprisingly light for something that had appeared so intimidating from the pit lane, but incredibly pointy and direct, with even the smallest of inputs translated to the front wheels.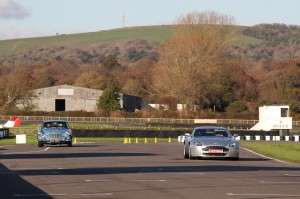 Elsewhere, it was clear the Vantage is still very much a GT car at heart, with light but responsive pedals, and a similarly light gearbox. Having said that, the gearbox was the heaviest of all the controls, with a short throw and reassuring shift.
The engine, however, was the car's party piece. As this was one of the early cars, it had the 'underpowered' V8 with 380 bhp and 302 lb/ft of torque. (To put that in perspective, the Volvo V40 I drove a little while back had 258 lb/ft…) But when cars like this one are for sale on the second-hand market for not much more than a new mid-spec Ford Mondeo, and there are quite a few people who know how to fettle with the engine should you need extra poke, it potentially makes for a very interesting purchasing decision.
The overall buzz on the day, though, came not from the engine, or the speed, or the acceleration, because, in all honesty, similar performance can come from a C63. Instead, what got me was that this was an Aston Martin, my first Aston Martin, and it's a day that I will never forget. The V8 Vantage is a beautiful car, and I look forward to my next drive.
In the future, though, I'll take my sodding jumper off. Getting out of an Aston is cool, but any attempt to look like Daniel Craig is thwarted when you look like a sun-dried tomato in a helmet.
A thank you to Mithrill for the drive.