Stories Published on December 21st, 2011 | by Seán Ward
0
Loeb Becomes Most Titled Racer Ever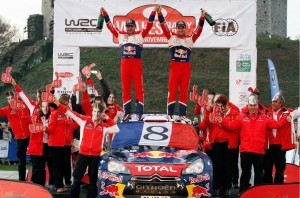 Following the final confirmation of the WRC 2011 Champion, Sébastien Loeb has become the most titled racing driver in history.
Beating the likes of Michael Schumacher who won seven Formula One World Championships, Loeb has won eight consecutive WRC titles.
As praise for his achievement, Citroën has given us eight images, one from each of Loeb's titles.
1 – 2004 Rally Sweden – His first title, Loeb had a 36-point lead over his closest rival at the end of the season after winning six rallies in the season. He also became the first non-Nordic driver to take victory on the icy Swedish stages.
2 – 2005 Rally Japan – Loeb broke the record for the most consecutive victories, managing six wins, and became the first driver to win seven races in one season. He won the title by a 56 point lead at Japan.
3 – 2006 Rally Cyprus – Loeb had broken his humerus after Cyprus 2006, and so was unable to compete in the rest of the season. However, he'd built up enough points to still win the title.
4 – 2007 Rallye Automobile de Monte-Carlo – Loeb won with the brand new Citroën C4 WRC at the Monte-Carlo Rally, and managed to secure his fourth WRC title before the final race of the season.
5 – 2008 Rally Japan – In 2008, Loeb became the first ever five times WRC Champion by winning in Japan.
6 – 2009 Wales Rally GB – This time Loeb left it until the final round in Wales to claim the 2009 title. He was behind the leader of the championship by one point at the start of the weekend.
7 - 2010 Rallye de France-Alsace – This was a very special year for Loeb, as he won the titles in his home town of Loeb Haguenau.
8 – 2011 Wales Rally GB – For 2011, Loeb had the new DS3 WRC, which had a 300 bhp turbo-charged 1.6 litre engine. Loeb won the title in the second to last race of the season.
[portfolio_slideshow]