Frankfurt 2011 Published on September 9th, 2011 | by Seán Ward
0
Lotus Evora GTE Heading to Europe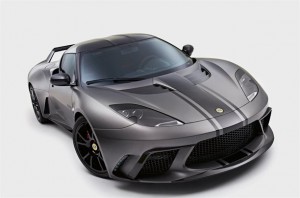 The Lotus Evora GTE, which was originally intended for a production run in Asia only, will now be sold in Europe.
25 cars, one of which will be at the Frankfurt Motor Show, were supposed to be built, but the run has been increased to allow for sales in Europe.
Dany Bahr, Group Lotus chief, said that "The response to this model in China has been so incredible, within days we had sold out with 114 orders.
"In response we decided that the only logical step from a business perspective was to increase production and widen our reach."
The GTE produces 440 bhp from a 3.5 litre V6 engine, with the engine itself being mated with an AMT sequential gear box.
As well as the GTE, three new Lotus models will be launched, including the replacement for the Elise SC, the new Elise S, and two other completely new cars, both of which are under high security until the show.