Goodwood FOS 2012 Published on December 21st, 2011 | by Seán Ward
0
Lotus the Chosen Marque for Goodwood 2012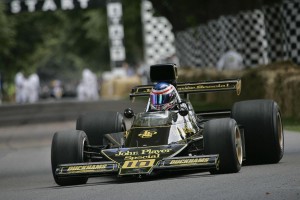 Lotus has been names as the chosen marque for the 2012 Goodwood Festival of Speed.
Held between 28th June and 1st July 2012, the central feature, being built at the moment, will be unveiled featuring the Lotus theme.
Goodwood has said that is excited to have Lotus at the festival because "it is an exciting time in the marque's history, as Lotus is currently two years into a dynamic five year brand reinvigoration plan with the goal of returning the marque to its original status alongside other prestigious sports car manufacturers.
It is also a significant point in Lotus' history because 2012 will mark the 60th anniversary of the Lotus name, created by Colin Chapman in an old stable behind his parent's Railway Hotel in Hornsey, North London.
As well as the 60th anniversary of the name, some iconic Lotus car are also celebrating historic birthdays – it will be 40 years since the Esprit concept was first revealed, 35 years since the Lotus 78 ground effect Formula 1 car competed, and, rather oddly, 20 years since cyclist Chris Boardman won a gold medal for Britain in the 1992 Barcelona Summer Olympics, riding the Type 108 bicycle, developed by Lotus.
A large collection of Lotus F1 cars will be taking part in the festival too, seeing as Lotus has played a very important part in the development of Formula One, winning 6 driver's and 7 constructor's championships.
[portfolio_slideshow]