Stories Published on February 16th, 2011 | by Seán Ward
0
Man Sets Guinness World Record for Driving Over Beer Bottles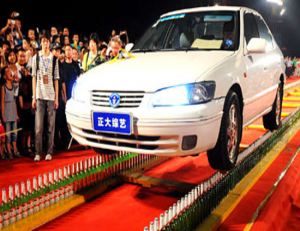 A Chinese man broke the Guinness world record for driving across beer bottle yesterday.
Mr Li Guiwen, an army vehicle driver from Beijing, drove 200 ft across 1798 beer bottles in a completely unmodified car.
To complete the feat took an incredible 8 minutes and 28 seconds.
Believe it or not, this is the second time Mr Guiwen has attempted to break the record, however after his previous failure, he said he "has been training constantly".
His previous attempt took place in Beijing in 2009, but conditions prevented him from completing the record. Mr Guiwen said: "During my last attempt it started to rain which just made my car slip off the bottles".
He continued with: "It's amazing where drunken bets with your friends can lead you".
Published on 7th September 2010 at www.motoringpress.wordpress.com.