Stories Published on January 30th, 2012 | by Seán Ward
0
Manchester Police Write off Golf R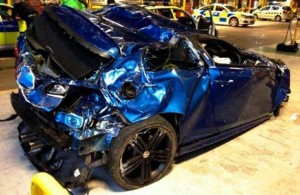 Police in Manchester have written off a VW Golf R this week after a high speed test drive.
The blue R, worth around £40,000, was written off completely at 2am shortly after the police offers started their evaluation drive, with the intention of adding at least one Golf R to the Manchester Police Fleet if it proved satisfactory.
Unfortunately for the 40 year old officer behind the wheel, the car span after a hasty roundabout entrance, sending the car into a spin, and then a roll after hitting a lamp post.
The officer has now been banned from official police driving duties until a full investigation has taken place, and the cause of the accident has been proved.
He has also been discharged from hospital after he was treated for spinal injuries at the scene.
A senior officer at Greater Manchester Police said: "The car was being tested and it went horribly wrong. Police do use public roads to test vehicles – the risk is reduced by the location and the time when this is done.
"Another officer in a powerful Audi had gone out on patrol with him at the same time – but was patrolling elsewhere when the accident happened.
"The Audi driver went to the scene immediately after the crash to help. The VW was on loan as the company are trying to sell them to the force.
"It would appear there were icy conditions on the night it happened. It was being tested in the early hours and the car had been with the force for a couple of days. The idea was to get a few officers to get a feel for it – get a reasonable sample before deciding whether to buy them."
In a statement GMP said: "As a result of this incident Greater Manchester Police is currently reviewing its policy on officers test driving demonstration cars on public roads.
"That review is ongoing and it would be inappropriate to make any further comment."
Following the incident, Northern newspapers have been giving the police some rather unwanted publicity.