Stories Published on February 12th, 2011 | by Seán Ward
1
Mansory Bugatti Veyron Launched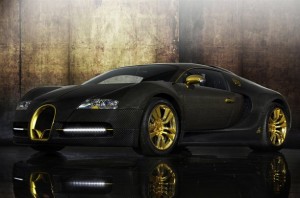 Mansory has just launched its one-off Bugatti Veyron special edition.
The Swedish tuning company has created the Veyron LINEA Vincerò d'Oro which featured an almost all carbon fibre body, a gold covered interior, a shorter front bumper that the old Veyron and new LED headlights.
To improve performance and reduce aerodynamic drag and increase downforce, Mansory have added a new carbon fibre diffuser and larger rear air intake ducts.
They have also decided that gold is a very exclusive colour and that it must be used a lot, so there are gold door handles and headlight surrounds, and a golden front bumper and fuel filler cap.
Oh, and don't forget the gold wheels.
No price has been put on this very special Veyron, but it will certainly be on the exciting side of £1 million.
Published on 9th July 2010 at www.motoringpress.wordpress.com.
.
.
[portfolio_slideshow]