Ferrari 458 Italia (2009)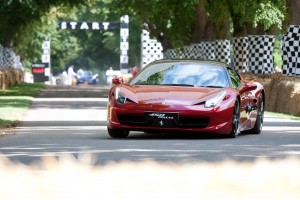 The eagerly awaited Ferrari 458 Italia was put into production in 2009, after being unveiled at the Frankfurt Motor Show in September 2009, to great media praise.
Not only, journalists said, was it the prettiest Ferrari to have left Maranello for decades, but it featured new technologies that would shape the way for Ferraris of the future, with major technological influences from Ferrari's Formula One Experience.
The 458 has a 4.5 litre V8 engine with a maximum power output of 562 bhp at 9000 rpm, and a maximum torque output of 398 lb/ft at 6000 rpm, and with the 9000 rpm redline, it is one of the highest revving V8 road cars on the market.
The ferocious engine is teemed to a 7-speed dual-clutch gear box, with gear changes being done by a set of Formula One style paddles behind the steering wheel, or automatically.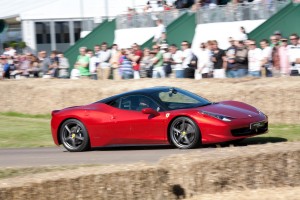 At the front of the car, double wishbones increase front grip dramatically over previous Ferrari models, with the rear suspension featuring a multi-link set up.
The styling, Ferrari say, although beautiful, and designed by Pininfarina, has been done purely for aerodynamic reasons; the car has a dry weight of 1340 kg, but can produce an extra 140 kg of down force at 200 kph.
Ferrari claim that the Ferrari 458 can get from 0-62 mph (100 kph) in 3.4 seconds, and on to a top speed of 202 mph (325 kph). Fuel economy has improved too over the outgoing F430, with a combined consumption of 22.1 mpg.
But the 458 hasn't had the easiest of births; Many features of the car have been developed with the Ferrari Formula One team and ex-Ferrari F1 star Michael Schumacher, including the new steering wheel, which features almost all of the dashboard buttons on the wheel itself, including the indicators, something which numerous journalists and drivers have criticised.
Also, in 2010, reports surged around the internet that Ferraris were bursting into flames, with a number of the incidents caught on video. Ferrari recalled all 458 Italias on 1st September 2010, and later said that a glue used in the wheel arch was, under certain circumstances, overheating and causing the whole car to catch fire. The problem was rectified and all the owners who had lost their 458s to this problem were given a brand new car.