Ferrari 458 Italia Spider (2011)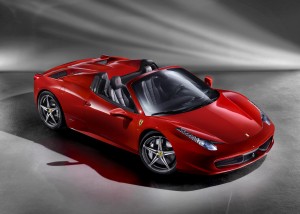 The Ferrari 458 Italia Spider was officially revealed on 23rd August 2011, with four official pictures released to the press.
The pictures were released one week after unofficial images were leaked on to the internet. These pictures, it became clear, were indeed the photos released by Ferrari.
Like the Ferrari California, the 458 Spider has an aluminium folding roof which weighs 25 kg less than a more conventional cloth folding roof seen on previous mid-engined Ferraris, such as the F430 Spider, the 360 Spider and the F355 Spider.
The roof can fold away under the dual-pod engine cover in only 14 seconds.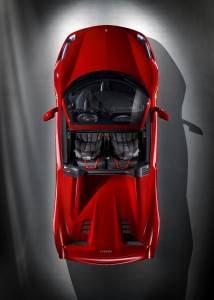 It features the same 4.5 litre V8 as the coupé, and has the same performance figures: 562bhp, 398lb ft of torque, and a 0-60 mph time of 3.4 seconds, despite it weighing in at 1430 kg, 50 kg more than the standard car. The top speed is 198 mph (318 kph), slightly less than the coupé 458, at 202 mph (325 kph).
And like the standard 458, it has a dual-clutch seven speed gear box.
Ferrari says that normal conversation can be held at speeds of up to 200 kph (120 mph).