Ferrari 599 GTB Fiorano (2006)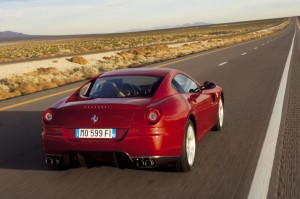 Ferrari unveiled its replacement for the 575 at the Geneva Motor Show in 2006: the 599 GTB Fiorano.
The 2 seater GT car aimed to stay true to the normal Ferrari V12 GT cars, but at the same time, usher in a new era both in terms of technology and styling.
The body was designed by Pininfarina, as well as much of the interior, however, the engine was the same one previously seen in the flagship Enzo – a 6 litre V12, if a little detuned.
However, it still produced 612 bhp at 7600 rpm, and 448 lb/ft of torque at 5600 rpm.
Not only was the power considerably higher than that of its rivals, but its performance figures were way beyond what Ferrari believed was possible when they started the project; a top speed of 205 mph (330 kph) and a 0-62 (100 kph) time of 3.7 seconds.
A new generation of six-speed F1 style gearboxes was used on the GTB for the first time, allowing changes to be made in as little as 100 ms.
The GTB was also the first car to use the Magnetorheological Suspension Control, or 'SCM Suspension' for short. This suspension could react instantly to road conditions and driver inputs, thanks to the fact that the dampers use a fluid filled with minute magnetic particles, the viscosity of which can be modified by the onboard computers applying an electronically controlled magnetic field.
While complicated, the new system was considerably better than the old system of conventional damping.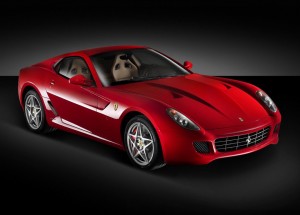 The steering wheel-mounted manettino vehicle dynamics control switch was further developed over the one seen on the F430, thanks in part to further developments in F1 technology.
The HGTE Package
The Handling GT Evoluzione package was offered as an improvement on the already excellent handling GTB Fiorano, and was aimed at providing owners better handling characteristics when driving on a track.
Essentially, it offered stiffer springs and a stiffer rear anti-roll bar, as well as new calibration settings for the magnetorheological shock absorbers when the manettino is switched to its sportier settings.
Other changes were made to the ride height, tyres compounds, gear box and exhaust system, and extra carbon fibre pieces were fitted to the interior and exterior.