Ferrari 599 GTO (2011)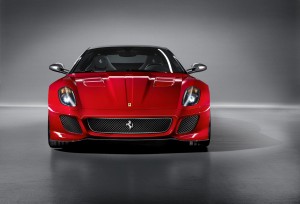 The Ferrari 599 GTO is Ferrari's fastest ever road car, and was unveiled in April 2010, and put into production for 2011.
The GTO is considered to be a road going version of Ferrari's dedicated track version of the 599, the 599XX, and uses much of the technology used on the XX, albeit orientated towards road use.
The V12 engine produces 670 bhp at 8250 rpm and 460 lb/ft of torque at 6500 rpm, and because the car weighs only 1495 kg, 0-62 mph (100 kph) takes less than 3.3 seconds.
The top speed is 208 mph (335 kph).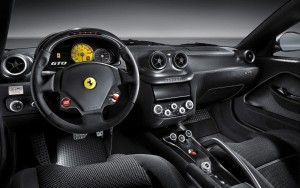 The GTO's front tyres are 285/30 on a 9.5″ channel, and the rear tyres are 315/35 on an 11.5″ channel, with both the front and rear having 20″ rims, specially designed for the GTO.
The braking system is of a similarly high performance to the XX, allowing for lower lap times.
Only 599 GTOs were made, all of which were sold to only the most 'dedicated' Ferrari customers.