Ferrari California (2008)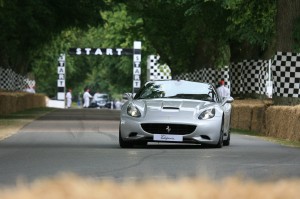 The Ferrari California is a convertible V8 GT car that was launched at the 2008 Paris Motor Show, using the 'California' name not seen since the 250 GT 1959.
It is also the First Ferrari in history to use a metal folding roof, rather than the more conventional electric cloth roof.
27 Californias are built each working day, meaning a total production of just over 6000 cars per year.
The California has a 4.3 litre V8 engine, similar to that in the 458, but with a lower redline and slightly more relaxed feel, owing to the fact that it is a GT car rather than an all out supercar. It produces 460 bhp at 7,750 rpm, and 358 lb/ft of torque at 5000 rpm.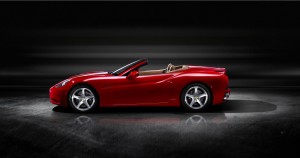 The engine, combined with a seven-speed dual-clutch gear box, means the car can get from 0-62 mph (100 kph) in 4 seconds and on to a top speed of 193 mph (310 kph).
Similar to the 458 Italia, it has an aluminium chassis with double-wishbone suspension at the front and a multi-link set up at the back, allowing it to be a comfortable yet superb handling car.
The traction control system is much the same as the 458 too, with all of the settings available to change by various buttons on the steering wheel.