Ferrari FF (2011)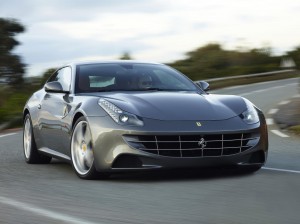 The Ferrari FF was revealed in January 2011, before its official launch at the Geneva Motor Show in March 2011.
As a successor to the 612 Scaglietti, it had to be both impressive to behold and excellent on the road. So, Ferrari used the Pininfarina styled 458 as a baseline for the FF, creating a shooting brake, four seater GT car, and also fitted it with four-wheel drive, the first Ferrari to use such a system.
Hence, the 'FF' stands for 'Ferrari Four'.
In fact, Ferrari have been so adamant that the FF will have proper rear leg room and therefore be a true four-seater, they have specified the maximum heights for the occupants of the vehicle: 1.95 meters for the front, and 1.85 meters for the rear.
The standard price for the car is £227,026 ($367,000), and options can increase the price significantly.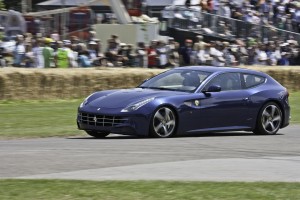 Power comes from a 6.3 litre V12 engine, producing 660 bhp at 8000 rpm and 504 lb/ft of torque at 6000 rpm.
The FF uses a transaxle dual-clutch F1 gearbox, developed once again in coalition with the Ferrari Formula One team, allowing the car to get from 0-62 mph (100 kph) in 3.7 seconds, and on to a top speed of 208 mph (335 kph).
Perhaps most impressive is the amount of boot space, because for a Ferrari it really is unbelievable: anything between 450 and 800 litres.