2005 Gumpert Apollo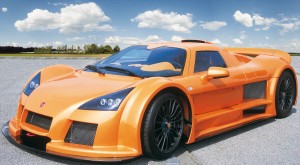 The Apollo was the first car launched by the car maker Gumpert, founded by Robert Gumpert in 2004.
It was designed to be a road legal car that would come to life on a track, and so when it was launched in 2005, it had performance figures to match Robert Gumpert's dream.
It has a 4.2 litre twin-turbocharged V8 engine that produces 650 bhp, although the two other variants, the Sport and the Race produce 700 bhp and 800 bhp respectively.
Thanks to a very low kerb weight of just 1100kg, it is capable of 0-60 mph in 3 seconds, 0-124 mph in 8.9 seconds, and on to a top speed of over 225 mph.
A six-speed sequential gear box is the only gearbox supplied with the Apollo.
Gumpert has said that the car would be able to drive upside down in a tunnel at speeds above 190 mph, but no one has actually tried this for obvious reasons.
Rather oddly for a car of this type, electric windows, satellite navigation, a radio and a rear facing reversing camera are available, albeit as options.
The seats are fitted directly to the chassis, and all the instruments are fitted inside the actually carbon fibre body, rather than inside a binnacle that is bolted on.
The suspension can be changed according to the drivers needs, and ride height can be set at anything between 40 mm for hard track use, and 120 mm for day to day tasks like shopping.