Infiniti QX Series (2003)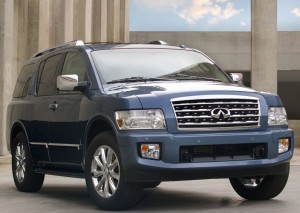 The Infiniti QX is a luxury SUV that's well-known for being larger than life. Not necessarily built for roughing it on the trails of the Outback, it nevertheless has excellent towing capability, powerful V8 engines, a comfortable cabin and high-tech features that make it a strong contender in the full-sized SUV class.
Beginning as mid-sized and bulking up every year, the QX entered its third generation in 2010 and secured the status of a luxury transport SUV rather than a rugged wilderness trucker. Smoothing out early complaints regarding the interior and cargo capacity, the QX (in which the "Q" stands for luxury and the "X" for 4×4), placed emphasis firmly on the former letter in its name.
The QX has been one of Infiniti's best-selling vehicles, particularly following the 2011 redesign, which took the SUV further away from its original basis – the Nissan Armada pickup – and closer to the Nissan Patrol, which made it an all-wheel drive full-size SUV with space for eight passengers built on an independent platform.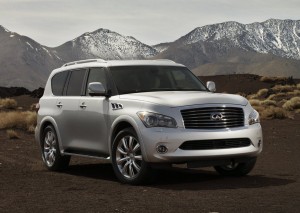 The upgrades meant that handling and engine refinement were markedly improved, and powertrain upgrades meant the horsepower increased, transmission was better and the new four-wheel-drive system boosted sales as well. Infiniti has kept going with a good thing for the 2012 models, but added new Blind Spot Intervention as part of its excellent technology package.