Lamborghini Murcielago LP670-4 SV (2009)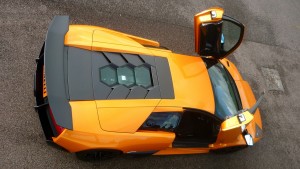 Seven years after the first Lamborghini Murcielago rolled off the production line, Lamborghini announced it would see the return of the famous SV (Super Veloce), not seen since the Diablo SV and the Miura SV, but this time on a Murcielago.
Snappily named as the Lamborghini LP670-4 SV, it had just under 670 bhp, 4 wheel drive, a 6.5 litre V12 engine, but most importantly, 120 kg less than the normal Murcielago, and of course the SV badge.
As standard, it came with 15 inch, six-piston brakes, 18 inch wheels, and an Aeropack wing that limited the car to a top speed of 209 mph, or with the spoiler removed, 213 mph. It also came with a six-speed semi-automatic transmission, although a six-speed open-gate gearbox was available as a no cost option.
Thanks to the immense power and modified aerodynamics, the SV got from 0-62 mph (100 km/h) in just 2.8 seconds and from 0-120 mph (200 km/h) in only 9.7 seconds.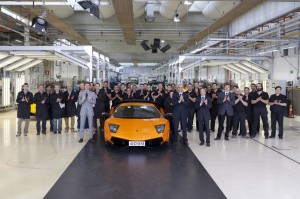 Limited to just 350 cars, the last SV, and indeed the final Murcielago of the 4,099 built, left the factory in November 2010.
This also marked the end of the famous V12 engine, which had been used by Lamborghini since the Miura. A new V12 has been designed for the Murcielago's successor, the Aventador.