Stories Published on October 24th, 2011 | by Seán Ward
2
Marco Simoncelli Killed in MotoGP Crash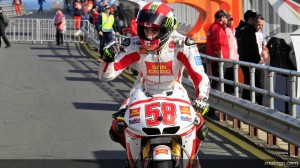 Marco Simoncelli, a rider said to be well on his way to motorcycle racing staredome, was killed on Sunday at the Malaysian round of the 2011 MotoGP.
The accident comes just one week after British IndyCar driver Dan Wheldon was killed as the result of a 15 car pileup during a race in Las Vegas.
The 24 year old lost control of his Honda on turn number 11, just four minutes after the start of the race.
He subsequently swerved across the track, unable to correct the bike, and was hit by American rider Colin Edwards and champion MotoGP rider Valentino Rossi.
The impact smashed the helmet clean off Marco's head, leaving him unprotected as he grazed down the track.
Italian rider for Honda Andrea Dovizioso said after the race "Marco was a strong rider and he always pushed hard.
"We raced together since we were kids, I saw him always pushing to the maximum, he crashed many times, but without major injuries, he seemed invincible. What happened today seems impossible."
Valentino Rossi, one of the riders involved in the accident, said on Twitter after the race "Sic [Marco's nickname] for me was like a younger brother, as strong on the track as he was sweet in life. I still can't believe it. I will miss him a lot."
Simoncelli was born on 20th January 1987, in Cattolica in eastern Italy, where he developed a passion for the sport at a young age and started racing in the Minibike Championships when he was 7.
In 2002 he won the European 125cc title, which allowed him to compete worldwide, and then eventually move to MotoGP in 2010.
Simoncelli's manager, Carlo Pernat, believes the youngster would have gone on to great things.
"Marco was a cheery boy, everyone's friend."
"He had expectations, dreams. He was a boy from days gone by, with a wonderful family who taught him good values. It's terrible, there are no words, everyone's very upset, he could have become world champion one day."
Our thoughts go to his friends and family.
Marco Simoncelli. 20th Januray 1987- 23rd October 2011.
[portfolio_slideshow]