Stories
Published on November 6th, 2012 | by James Allen
0
Maserati reveals next Quattroporte ahead of Detroit debut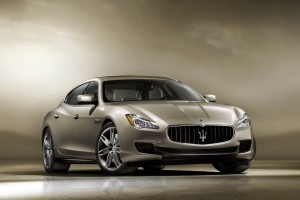 It may have taken an age for it to arrive, but we finally have the first official photographs of the all-new – and much anticipated - Maserati Quattroporte.
Whilst no official details have been announced as of yet – we expect Maserati won't disclose them until the car's official unveiling at January's Detroit Auto Show – the sextet of pictures we have clearly show the new Quattroporte is a noticeable step forward from its predecessor.
For instance, the exterior styling more closely resembles the detailing you'd find on the Maserati GranTurismo and GranCabrio range, whilst the front is similar to the Kubang SUV concept's.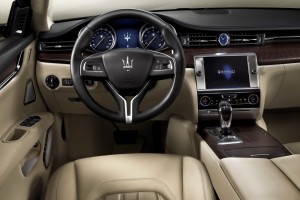 Things are noticeably more different inside, though: the design of the dashboard, controls and centre console are all considerably less cluttered than the current car's. Gone are the swathes of buttons, with what we assume to be a touchscreen that'll, in theory, significantly improve the ergonomics.
The space inside also seems to have been improved slightly – which would certainly prove the claims that the new Quattroporte is longer than the current car to be correct – though, until it's made official, we can only say is speculation for now.
What isn't rumour, though, is what we expect will be the flagship engine in the range: a Ferrari-developed V8. The motor's capacity and power outputs haven't, at time of writing, not been declared by Maserati, but we can't find a trace of any turbocharging on the engine, so we assume that there's still some life in the big, naturally aspirated engine.
Until the car's official debut this January, there's very little we can report on the new Quattroporte at the moment. However, we can assure you that there'll be plenty of people swooning around the Maserati stand when the Detroit Auto Show moves into town…
[portfolio_slideshow]