Stories Published on February 2nd, 2011 | by Seán Ward
0
Massive Indy 500 Crash Video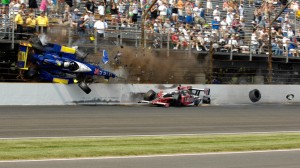 Dario Franchitti won this weekend's Indy 500, the Scot's second victory in the race billed as 'The Greatest Spectacle in Racing'.
But what the spectators remembered most about the race was the horrible crash that British racing driver Mike Conway suffered.
On the final lap, Ryan Hunter-Reay (in the red and white Dallara) is going slowly to conserve fuel, but Mike is not, so the side of Reay's car acts as a ramp and Mike is thrown into the fence at 200 mph.
Luckily, he escaped with just a compression fracture to his back and a broken leg.
Spectacular is an understatement.
Published on 16th June 2010 at www.motoringpress.wordpress.com.
.
.
[portfolio_slideshow]