Paris Motor Show 2012 Published on September 5th, 2012 | by James Allen
0
Mazda 6 Estate shown ahead of Paris debut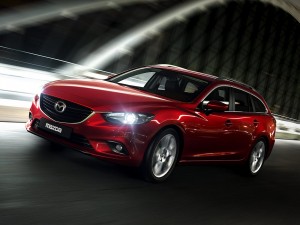 Just a week or so after the saloon broke cover at the Moscow Motor Show, Mazda has just published the first pics and details regarding the estate version of its all-new Mazda 6.
However, even though it has just been previewed in press release format, details so far are very scarce at the moment, with Mazda understandably holding onto some of the car's key specs such as the boot size until the car is on display in Paris at the end of the month.
That said, Mazda has revealed that there'll be at least two engines from launch, with the one the consumers will likely be most interested in being the 2.2 diesel. Featuring the firm's latest 'SkyActive' efficiency technology, Mazda claims this specific engine will develop 145g/km of CO2 emissions, with the potential with some tweaks here and there to reduce that down to a nigh-on unbelievable 105g/km of CO2.
There'll also be a 2.0 petrol engine in the range, which at this moment in time hasn't been attributed with any statistics. However, Mazda claim they're "in excess of what you'd expect from a naturally aspirated petrol engine'.
Until then, that's all the stats we have here, though we're 100% certain there'll be plenty more to talk about at the end of the month when the Mazda 6 Estate is unveiled. In the meantime, feel free to gawp at the car's 'Kodo' design in our image gallery below.
[portfolio_slideshow]