Stories Published on December 22nd, 2011 | by Seán Ward
0
Mazda's New Repair Initiative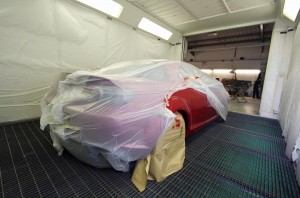 Mazda has launched an interesting new repair program which entails more parts being available at dealers as well as providing more money for approved repair centres.
The program, named 'Save It', should provide cheaper repairs for those cars that are nearing the end of their usable lives and cars which have come very close to being written off.
Mazda UK aftersales director David Wilson-Green said: "Scrapping a car is hugely inconvenient for a customer and will invariably cost them money.
"Customers also have to wait for an insurance company to pay out and then rush to find a replacement vehicle at a time usually inconvenient to them.
"While customer satisfaction and convenience is paramount, it also makes good business sense for our dealers who supply the parts for the repairs and our approved accident repair centres to do the work, it also keeps a customer in their Mazda for potential future servicing and parts sales."
The program is run by a Mazda repair centre contacting the car owner to decide whether or not the car is eligible for the scheme. From there, the centre estimates the cost, applies for discounted parts, and then the owner decided whether they want the repairs to take place. If they do, they have a courtesy car for the duration.