Stories Published on February 28th, 2011 | by Seán Ward
1
McLaren MP4-12C Prototype Spied – newmotoring Exclusive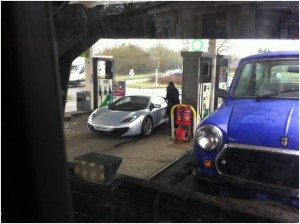 Less than an hour ago, whilst someone we know was taking delivery of their new 'old' mini, guess what pulls up at the pumps?
That's right, the new McLaren MP4-12C, on its way to testing at the TopGear test track at Dunsfold by Formula One driver Jenson Button and Aston Martin racing driver Chris Buncombe.
Powered by a 3.8 litre V8 engine that produces 592 bhp and 443 lb/ft of torque, it's no surprise it had to stop for fuel.
The prototype car was snapped just up the road from newmotoring on the A24, just outside Southwater, coincidentally, just a few miles away from where Ricardo have been developing and testing the engine.
McLaren Automotive will release the car in the next few months, with prices starting at £168,500, nearly £1000 cheaper than its main rival, the Ferrari 458 Italia.
Click here to read more about the new McLaren MP4-12C.