Stories Published on July 18th, 2012 | by Seán Ward
0
McLaren MP4-12C Spider – Take That Ferrari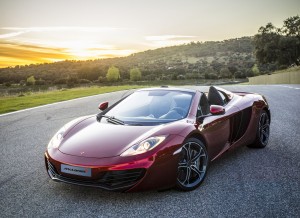 McLaren got a lot of stick for the 12C; even though it went through years of development, and a doctor was specially hired to 'create' the exhaust noise, every motoring organisation this side of the sun said that it lacked the soul of the Ferrari 458 Italia, and that it was as clinical as a hospital, of not more so.
Well, with the introduction of the 2012 12C and the new 12C Spider, you can tell things have changed – when a car manufacturers sends you press shots of the car eating its own tyres, it's bound to be interesting.
Like the 458 Italia Spider, the 12C Spider has a hard top folding roof, and like the 458 the performance figures are nothing short of remarkable. 0-60 mph takes 3.1 seconds, 0-100 mph takes 6.1 seconds (a Veyron Super Sports takes 4.5 seconds, so 6.1 for the McLaren with half the cylinders is ridiculous) and the top speed is 204 mph. With the roof down. Much better than the 458's rather poultry attempt of 198 mph.
But it isn't just a new roof, as the 12C spider gets all the upgrades that the second generation 12C coupé gets, so the 3.8 litre twin-turbo V8 now has 616 bhp and 442 lb/ft of torque.
Antony Sheriff, McLaren Automotive Managing Director, said: "The 12C Spider delivers all the thrills characteristic of a high performance roadster, and yet transforms into a raucous track beast at the flick of a switch. I can't wait to see it on road and track with customers later this year."
And for those of you who liked to swipe your hand across the door to open it, that system has now disappeared and been replaced with a button.
Prices start at £195,500, and could rise by £30k if you go mad with the options.
[portfolio_slideshow]