Pebble Beach 2012 Published on August 20th, 2012 | by James Allen
0
McLaren X-1 one-off revealed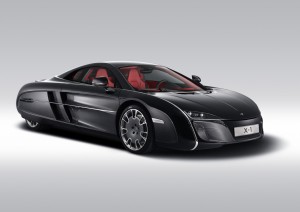 The Can-Am concept isn't the only McLaren being flaunted at Pebble Beach this year, as the British supercar manufacturer has chosen this prestigious event to show off its first ever 'Special Operations' vehicle; the X-1.
Making its first – and only - official appearance to the public, the X-1 was commissioned by an anonymous long-term buyer of McLaren cars (the client owns an F1, a Mercedes-Benz SLR and an MP4-12C) who wanted something that had the performance of the latest Macca, but with a completely unique body.
A project that's been nearly three years in the making (which, if you do your maths correctly, means the scheme began before the MP4-12C on which it's based even went on sale), the design was an in-house job, being done by McLaren's Korean-born RCA graduate Hong Yeo whilst under the watchful eye of design chief Frank Stephenson.
T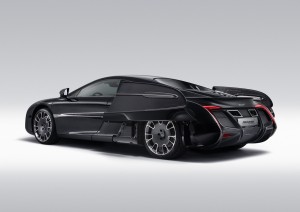 he inspirations for the eventual design were quite varied, and some would say rather unusual at times. There's the typical automotive elements of the McLaren mood board, such as the Facel Vega, Mercedes 540K and Citroen SM, whilst other elements of the design pay homage to the Guggenheim Museum, a grand piano, Audrey Hepburn and even an eggplant (yes, you did read that right).
As a result of the varied design elements to choose from, the X-1 certainly looks like nothing else on the road. Sure, the interior is mostly the same as the MP4 on which it's based (the only major alteration is the red leather trim), the exterior resembles nothing that's ever rolled out of Woking.
Not only are the dimensions different from the donor car – the X-1 is 109mm longer at 4658mm, and 188mm wider at 2097mm, though the weight and height are identical to the 12C – but the bodywork is so different from the MP4′s, that it's required all-new homologation. Almost everything on the car is bespoke for the X-1, and whilst the bodywork has been crafted out of carbon-fibre, other elements such as the AirBrake are crafted out of aluminium, and the logos are coated in nickel.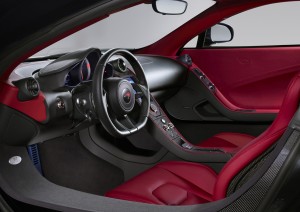 Even the retractable covers for the rear wheels are bespoke to the X-1, with Stephenson claiming the hinges that operate them are 'amongst the most gorgeous you've ever seen'.
McLaren hopes that, with the announcement of the 'McLaren Special Operations' programme and its first product, will kick-start a new generation of bespoke, one-off McLarens, in the same vein as Ferrari's 'Special Project's Programme'
We'll leave you, though, to make your mind up about the way it looks – if the Internet forums are anything to go by, it seems to have split public opinion! If you need to jog your memory to finalise your personal verdict, be sure to check out our image gallery below.
[portfolio_slideshow]