Stories Published on February 22nd, 2012 | by Seán Ward
0
Megane Renaultsport 265 Range Pricing Announced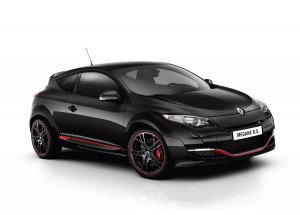 Renault has announced that its hot hatch, the 265 Cup, will be available from £24,825, or £26,025 for the slightly better equipped 265.
Arriving in showrooms at the end of April, the 2.0 litre turbocharged, four cylinder engine produces 265 bhp and 265 lb/ft of torque, equating to around 191 bhp per tonne, thanks mainly to a reworked turbo which produces 2.5 bar of pressure rather than 2.3.
Considering the old car, the improvements aren't astronomical, with an increase of 15 bhp and 15 lb/ft, but nice little extras like the 'Red Design Pack' seen in the pictures set it apart from the previous generation, even if the pack costs an extra £350.
0-60 mph takes just six seconds and the top speed is 158 mph, further improvements over the older car.
Other nifty options include a rear parking camera for £360 and a lane departure system for £300.
Customers can opt for the 'Cup Chassis Pack' for an extra £1,350, for which you get 18" alloy wheels in matte black, 235/40 R18 95Y Michelin Sport 2 tyres, grooved Brembo brake discs, a limited slip differential, red brake calipers, stiffer springs, dampers and anti-roll bars, and a 'PerfoHub' independent steering axis front suspension set-up, which 'virtually eliminates torque steer'.
Oddly for a small car, the 265 employs a similar system to the Noble M600, whereby you can turn the power up or down; the default setting is 250 bhp and 250 lb/ft, but with the sport mode full power is available.
On the inside, everything is finished in grey cloth and carbon fibre with red seatbelts and stitching.