Stories Published on April 23rd, 2012 | by Seán Ward
0
Mercedes G63 AMG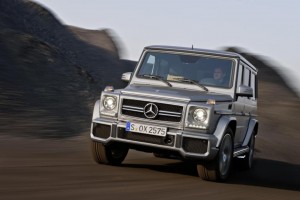 Is this the coolest Merc' on sale today? Quite possibly. Is it one of the best looking Mercs on sale today? Definitely.
This is the new Mercedes G63 AMG, and as you've probably guessed, there is now small or hybrid engine underneath the bonnet, but instead a 5.4 litre V8 engine with 544 bhp and 560 lb/ft of torque, considerably more power than the C63 AMG and more torque than the SLS.
Quite an insane machine, but oddly it is still branded as an environmentally friendly beast, as it comes with stop-start technology and a seven-speed automatic gearbox; 20.4 mpg doesn't exactly make it a Yaris Hybrid, but it's 13% better than its predecessor, the G55.
But this car oozes cool – apart from the black strips dumped all over the side of the car, it is a seriously stylish car, and the interior is lifted straight from the SLS, so it's all leather, carbon fibre and Alcantara.
[portfolio_slideshow]