Stories Published on December 15th, 2011 | by Seán Ward
0
Mercedes' New SL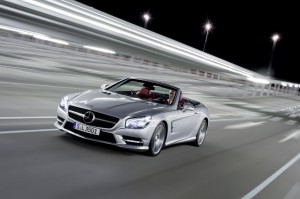 Mercedes latest SL has been launched today, supposedly offering more luxury for less money, and yet with a greater driving experience.
A choice of two engines is available: a 3.5 litre V6 and a 4.6 litre V8.
The V6 produces 306 bhp and 370 Nm of torque. The more astounding figure is that it uses just 6.8 litres of fuel per 100 kilometres, making it almost 30 percent more economical than its predecessor. Its 0-60 mph time stands at 5.9 seconds.
The V8 engine has a lower displacement than the V8 seen in the previous SL500, but produces both more power and torque, with 435 bhp and 700 Nm of torque on tap. Like the SL350, efficiency has been improved over its predecessor, this time by 22%. The 0-60 mph time has been reduced by 0.8 seconds to 4.6 seconds.
The new SL is now 50 mm and 57 mm wider, offering more space in the cabin. Mercedes has gone so far as to measure the extra space, so shoulder room has been increased by 37 mm and elbow room by 28 mm.
The interior has been updated but still has many of the same features included in the outgoing model, including cruise control, electric seats, traction control and stability control.
Mercedes has paid particular attention to chassis rigidity and lightness, so the new aluminium chassis and body shell weighs 110 kilograms less than it would using the steel technology. "The effect is rather as if a heavyweight-class passenger had got out of the car," says Dr Thomas Rudlaff, the man responsible for the new body shell. "The result is perceptible and measurable. Less weight means more dynamism and less consumption. In other words: the motoring enjoyment increases, the environmental burden sinks."
Dr Dieter Zetsche, the head of Mercedes-Benz, spoke highly of the new car: "There are around 900 million cars in the world and thousands of models. But there are only a handful of automotive icons. Our SL is one of them: it has class, it has style, and it is the ultimate in comfort and luxury. But it combines all that with incredible sportiness and dynamism. You would struggle to find a car that embodies Gottlieb Daimler's aspiration more perfectly than our new SL: the best or nothing."
[portfolio_slideshow]