Motor Shows Published on March 28th, 2012 | by Seán Ward
0
Most Powerful Shelby Ever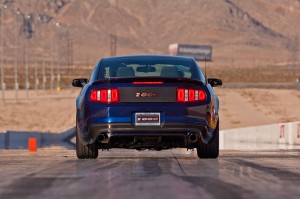 Shelby will be launching its most powerful Mustang ever at the New York International Auto Show next month, with over 1,100 bhp.
Named the Shelby 1000, customers can buy a street legal 950 bhp car, or opt for the headlining track-orientated 1,100 bhp car.
The 5.4 litre Ford V8 has been stripped down to the block and pistons, and had the cooling system, exhaust system, and supercharger worked on extensively, as well as some added "Shelby magic".
Carroll Shelby is a visionary who has pushed the boundaries of performance his entire life," said John Luft, president of Shelby American.
"He challenged the Shelby American team to develop the Shelby 1000 and wanted to unveil this amazing new Shelby at the New York Auto Show celebrating 50 years since he unveiled the very first Shelby Cobra that changed the face of high performance."
As a bonus, Luft added "We will have that very car, Cobra #1 (CSX2000) along with Shelby 1000 on display in our Shelby American booth in New York."
With the power comes a new performance brake package (six-pot units up front, four-pot at the back), redesigned suspension components and performance tyres and carbon fibre splitters, spoilers and diffusers.
The package costs $149,995 for the road package and $154,995 for the track package, excluding the $60,000 GT500, and orders can be placed at the show or by contacting Shelby directly.