Stories Published on February 13th, 2011 | by Seán Ward
0
Mustang Boss 302 Beats BMW M3 Around Laguna Seca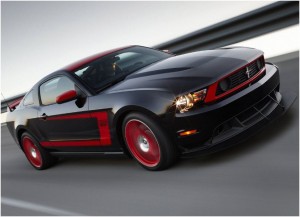 The meanest looking and fastest Mustang for years come in the form of the Mustang Boss 302.
From the off, this new 5.0 litre V8 American muscle car that shares its looks with the iconic 1960′s Boss, was built to beat BMW's M3.
And so recently, at Laguna Seca Raceway, it has.
"For us that meant a production Mustang that could top one of the world's best in lap times at Laguna Seca", says Ford, continuing with "We met our expectations".
Not only does the Boss cost substantially less, the 302 destroys the M3 when it comes to pace as well: for the Mustang, 0-60 takes 4.1 seconds as opposed to the M3′s 4.9 seconds.
Published on 18th August 2010 at www.motoringpress.wordpress.com.
.
.
[portfolio_slideshow]