Stories Published on January 15th, 2012 | by Seán Ward
0
New ASX Goes on Sale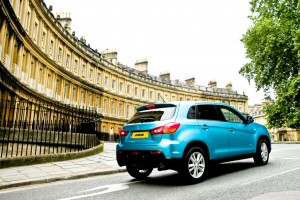 To kick-start the New Year for Mitsubishi, the first examples of its next generation ASX have arrived in the UK to go on sale in the next few days.
Based on the same platform as the Outlander, Lancer and Lancer Evolution X, the ASX offers a stylish and practical bridge between the manufacturer's passenger cars and off-roaders.
At the bottom end of the ASX scale are three petrol cars, each with the same 1.6 litre engine, but with different trim levels: ASX2, ASX3 and ASX4.
Up from these are the ASX3 1.8 diesel and the ASX4 Black 1.8 petrol, the highest trim petrol.
Finally, sitting at the top of the range are the ASX3 4WD, ASX4, ASX4 Black, ASX4 4WD, and the ASX4 Black 4WD, all of which come with the same 1.8 litre diesel engine.
Prices start at £16,499 for the ASX2, and rise all the way up to £25,895 for the ASX4 Black 4WD.
The diesel four-wheel drive cars go on sale first towards the end of this week, followed by the diesel two-wheel drive cars in March and the petrol cars somewhere around May.
Lance Bradley, Managing Director of Mitsubishi Motors in the UK, said: "The crossover marketplace has grown rapidly over the last 18 months. The Mitsubishi ASX has helped this growth by offering a stylish, well priced, practical and enjoyable to drive contender in this marketplace.
"With the ASX delivering excellent economy and emissions, versatility, as well as comprehensive standard equipment, and not to mention the reassuring safety features, the ASX has everything the crossover buyer is after."
ABS anti-lock brakes, Active Stability Control, Traction Control, Electronic Brake Distribution, 7 airbags are included as standard.