Frankfurt 2011 Published on September 3rd, 2011 | by Seán Ward
2
New Audi A2 Concept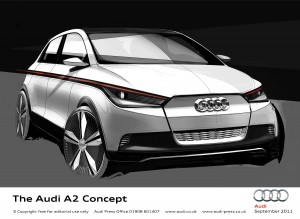 Sketches of a new Audi A2 concept set to be unveiled at the 2011 Frankfurt Motor Show have been released by Audi.
The striking concept is supposedly "another glimpse into the future of electric mobility", according to Audi.
The A2 introduces a new LED technology known as a matrix beam; LEDs and micro reflectors generate a non-glaring beam of light.
The design is similar to that, in shape, to the Audi A1, however this is much more futuristic and striking.
Its wider at the bottom than previous small Audis, in an attempt to make a small electric car look not just interesting, but sporty too.
If the car does go on sale, it won't be for a few years, and nor will it be as striking as the sketches suggest.