Stories Published on June 18th, 2012 | by Seán Ward
0
New Audi RS4 from £54k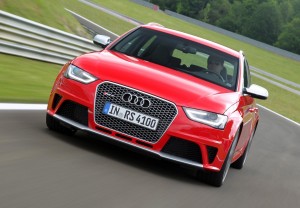 Orders are now open for the new Audi RS4 priced at £54,595, for which deliveries will start in the autumn.
The 4.2 litre engine produces 450 bhp (the old car had just 414 bhp) and 317 lb/ft of torque, leading to a 0-60 mph time of 4.7 seconds and an electronically limited top speed of 155 mph, though Audi says customers can have it raised to 174 mph, enough to embarrass the majority of Porsche, BMW and Mercedes owners.
Perhaps more impressive is that the new RS4 can achieve 26.4 mpg on the combined cycle, an improvement over the previous car which only managed 20 mpg.
Oddly, Audi has chosen to only release an estate, or 'Avant', variant of the new RS4 for now, but hopefully saloon and convertible variants will be launched before the end of the year.
In normal driving, power and torque is divided in a 40/60 front/rear split, so for the majority of time the car is rear biased, but power can be shifted around to where it's needed depending on what the driver would prefer or what the computers deem necessary, in which case the car can have up to a 70/30 front rear split or a 15/85 front rear split.
[portfolio_slideshow]