Stories Published on February 17th, 2012 | by Seán Ward
0
New Bosses for Bristol Cars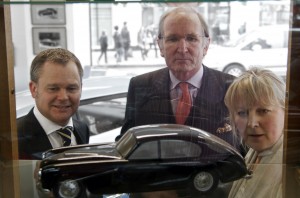 Low volume British sports car manufacturer Bristol has appointed a new general manager and senior advisor to the company.
The new General Manager is Julian Ramshaw from the Sytner Group, a new and used car seller based in Surrey, where he was Business Manager. His main role will be helping the new owners of Bristol Cars, Frazer-Nash Research, manage the company and car sales.
"Bristol Cars has a bright future ahead of it and I feel incredibly excited and privileged to be a part of the plans," said Ramshaw.
"There are some challenges ahead but we have a strong and loyal team and I feel confident that with the additional energy and ideas Frazer Nash bring, and my experience with brands like Ferrari and Maserati, we can put Bristol back where it belongs.
"While a sensitive refurbishment of the Kensington showroom is imminent, and I am busy working with Frazer-Nash and Sir George to draw up a business plan for the company, one of my priorities at the moment is to regularise and improve the manufacture and supply of spare parts.
"A substantial amount of money is being invested in our service division, which is still managed by Brian Marelli after more than fifty years, and Brian and his team are busier than they have ever been."
More importantly for Bristol is the appointment of Sir George White, who's father was founding general manager of the company.
"The revival of a famous company after it has passed through the hands of the administrators is never an easy task.
"As far as Bristol Cars is concerned, the challenge has fallen into two halves. The first is to design and manufacture a new car, capable of equalling the quality and exceeding the performance of the cars that built the marque's reputation. Giant steps are being made in this respect, but naturally in great secrecy.
"The second is to preserve Bristol's glorious past. My role, and that of my wife Joanna, will be to assist in every way possible in exploiting the company's history for the benefit of its uniquely exciting future."
Bristol cars fell into administration in March 2011 with the loss of 22 jobs before being bought again by the current owners the following month.
[portfolio_slideshow]