Stories Published on February 23rd, 2011 | by Seán Ward
1
New Gallardo Superleggera Spider Image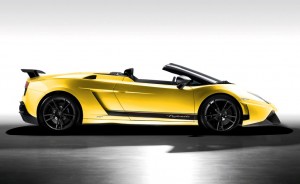 A new image of Lamborghini's Gallardo LP570-4 Superleggera Spider, also known as the 'Performance', has been released onto the internet.
Revealing little more than the previous image, the new picture is sending Lamborghini fans into a frenzy.
Read more about the new Lamborghini Gallardo Superleggera Spider here.
The new car will cost around £190,000 and be released sometime next year.
Published on 25th October 2010 at www.motoringpress.wordpress.com.