Stories Published on February 23rd, 2011 | by Seán Ward
0
New Hennessey Camaro with 755 bhp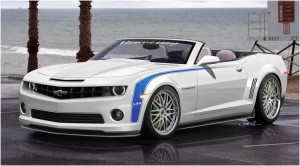 As if the Chevrolet Camaro was dull and underpowered, Hennessey has announced that it will be creating a convertible version of the Hennessey Camaro.
The last Hennessey Camaro, released last year with just 24 examples, named the HPE 700, was a huge success, with many Camaro fans asking for more cars.
It featured a 6.2 litre V8 with 700 bhp (hence the name), and was capable of getting from 0-60 mph in 3.3 seconds and covering the standing quarter-mile in 10.9 seconds at 130 mph.
Well, this week, it has been officially confirmed that the convertible version will be launched with 755 bhp and 763 lb/ft of torque, despite only having the same 6.2 litre V8 as seen before.
The cars will cost over £100,000 each and are likely to be sold to only the very wealthiest Camaro fans.
Published on 18th October 2010 at www.motoringpress.wordpress.com.

[portfolio_slideshow]