Motor Shows Published on January 15th, 2012 | by Seán Ward
0
New Jetta Hybrid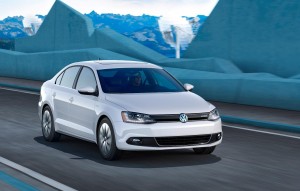 VW has launched the hybrid variant of its four door saloon car, the Jetta, at the 2012 North American International Auto Show in Detroit.
It uses a 1.4 litre, 140 bhp four cylinder engine as well as a 20 kW electric motor which together return 54 mpg.
AS with other VW hybrids like the Touareg Hybrid, a decoupling clutch is used to disengage the engine when coasting or braking, or to disengage the electric motor on motorways or when the battery's charge is running low.
Between the engine and motor, a maximum of 170 bhp is available, meaning 0-60 mph in 8.9 seconds.
There's no manual option, just a seven speed dual-clutch semi-automatic DSG gearbox.
Although there are few exterior changes to talk of, LED daytime running lights are included as standard, as well as a few hybrid badges to let people know you're environmentally friendly.
Unfortunately, the Jetta hybrid will not go on sale in the UK, but will be sold in America later this year, so there is at least an import option.
[portfolio_slideshow]